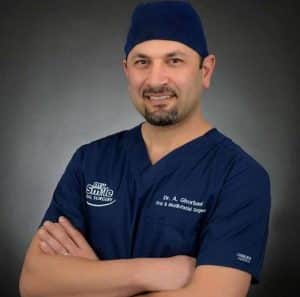 Dr. Abolfazl Ghorbani
Oral Surgeon
Dr. Abolfazl Ghorbani DDS, MSc, FRCD(C), graduated from Guilan University of Medical Sciences in 2003 with a Doctor of Dental Surgery. He then went on to certify as a Specialist in Oral and Maxillofacial Surgery from Shahid Beheshti University of Medical Sciences in 2010. In 2018, he completed re-certification in Oral and Maxillofacial Surgery at the University of Toronto where he is now an active instructor at the Department of Oral and Maxillofacial Surgery.
Dr. Ghorbani has taken a special interest in ALL-ON-4 dental implants, as well as other "Graftless Full Mouth Rehabilitations" with conventional dental Implants, associated supplemental bone and gingival grafts, wisdom teeth removal, impacted teeth removal, corrective jaw surgery, treatment of oral pathologies, and other oral surgical procedures
On staff at Southlake Regional Health Centre, Dr. Ghorbani serves York Region as well as Simcoe district for Major Oral and Maxillofacial procedures. His oral surgery clinic, My Smile Oral Surgery, serves Richmond Hill, York Region, and other neighborhoods across the GTA.
In his free time, Dr. Ghorbani enjoys spending time with his family, traveling, camping, photography, and winter sports.
What Our Patients Are Saying
One Year With a New Smile
A Pain-free Experience with Dr. Ghorbani
JJ Pimmy
Absolutely amazing experience!! Came to remove my wisdom teeth and was nervous like crazy. But the hospitality given to me was beyond amazing! From the comfort of the room and surgeon, all the way to the most gentle procedure I've ever had! Thank you so much. This will definitely be a place I recommend to people!